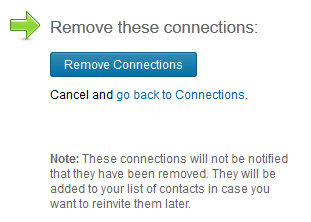 I seem to get asked this question quite often. It really isn't talked about much and to be fair, LinkedIn doesn't do a great job of making it obvious to the user. So, as part of my new blog series, I want to provide answers to some of the questions that I get asked and to those questions that I want answers to! Without wasting any more of your time, here goes...
How to remove a LinkedIn connection:
1) Hover over
"Contacts"
and click
"Connections"
2) Click
"Remove Connections"
3) Select the contacts you wish to remove and then click
"Remove Connections"

That's it! I hope that helps answer your question!


~Until Next Time~
WIM